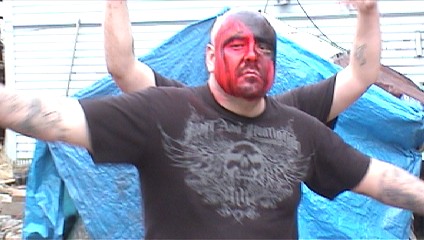 Biggie
HOMETOWN: Sedro Wooley, Washington
HEIGHT & WEIGHT: 6' 0" 280LBS.
FINSHING MOVE: THE DTA
NOTABLE FEUDS: BURBS, CHAOS, MAD MAN
I was born in Sedro Wooley Washington. I have lived in Spokane Washington for 15 years. Growing up in Sedro Wooley there was only two things you could be when you got older. You were a logger or you were a bartender, but if you were good at sports then you had more options. So growing up I played football, baseball and I wrestled. When I was six I can remember sitting on my father's lap watching Ric Flair and the Four Horsemen and turning to my dad saying no matter where I'm or what happens I promise I'm going to be the World Heavywieght Champion.