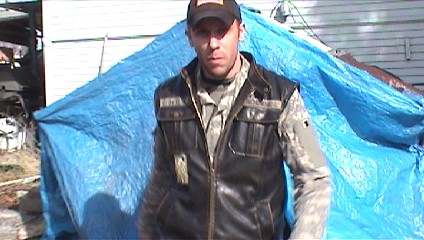 Jaxson Bourne
HOMETOWN: Spokane, Washington
HEIGHT & WEIGHT: 6' 1" 175LBS.
FINSHING MOVE: The Bourne Effect, Jax Driver
FAVORITE MOVES: Flying Clothesline
NOTABLE FEUDS: Porno M!ke,
Well here we are another season of Spokane Anarchy Wrestling, and this year things are going to be better then they have ever been! So here it is the bio of Jaxon Bourne. Me, the real me that you the fans have helped me to create, put the finishing touches on and polish into what you will see this year. You all wonder where did Jaxon Bourne come from? Well here... let me tell u.
I came from poo
r and humble beginnings, the youngest of four kids. While growing up, I found my love for wrestling started with watching it on TV, the WWF. I watched all the greats do what they did best and always dreamed of having a chance to step into the ring and perform the way that they did. Problem with that was that it was not a dream that I knew would come true and as i got older new dreams came.

I went to Ferris High School and was the starting quarterback of the football and starting pitcher for the baseball team. I had a blast being in high school. Football and baseball at this point became my life along with singing, but an injury would take that dream away from me and faster then it started my career as an athlete was over.

Down through the year I always wanted to know what was next for me and I found it in being a father to my daughters, Helen & Gail, and I finally felt that I found my calling being a dad. Again tragedy struck and my daughters were killed in a fire Dec 22, 2009 when a fire broke out in the apartment they lived in, in Curlew, WA. My daughters were killed. I hit rock bottom after this and did not know what i was going to do with myself.... and then I found Spokane Anarchy Wrestling. This is where I finally found my home.

I Started out as Crazy J and I really in threw myself into this character. He was me in every way. I could completely relate with the character I had created. Only problem was that there were limits to this character. I had gone everywhere I could with this character and yet something was always missing.

Then management made Johnny Law and that character went no where fast. He bombed big time. In the process of bombing as Johnny Law, and thinking and listening to you the fans and friends, I have now found what was missing from Crazy J.

I have now became Jaxon Bourne!!!

Now I say this...... SAW........ Watch out because I am here and I am hungry for gold!!! Jaxon Bourne will not be held down!! The sky is the limit and I will no longer let my fans down!!!!

To my fans.... thank you so much for all of your support and I hope to see you all this season out there to represent like only you can.................